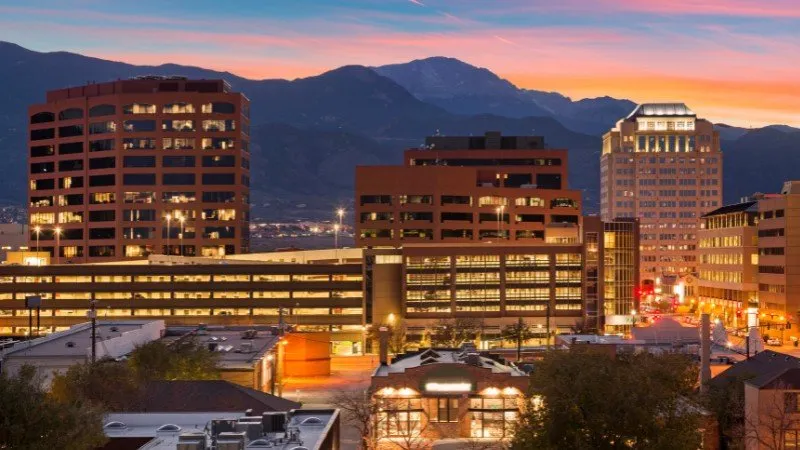 Life after active duty can be an adjustment, and one of the most significant decisions a veteran will make is where to live. With various cities offering different benefits, opportunities, and challenges, making a well-informed choice is crucial.
To make things easier, we've compiled a list of the top ten best – and worst – cities for military veterans.
The Best Cities for Military Veterans:
1. Colorado Springs, Colorado
Home to several military installations, Colorado Springs provides a welcoming community for veterans. The city offers robust job opportunities in defense sectors and breathtaking nature to explore.
Explore benefits for Colorado veterans.
2. San Antonio, Texas
Known as "Military City USA," San Antonio boasts a rich military heritage. With excellent healthcare services, job prospects, and a warm climate, it's a top choice for many veterans.
3. Virginia Beach, Virginia
Virginia Beach provides a seamless transition for veterans with its many military bases, a low unemployment rate, and a plethora of recreational activities.
4. Jacksonville, Florida
Thanks to its three military bases, veterans in Jacksonville can easily find jobs in defense sectors, benefit from excellent VA health services, and enjoy the sunny beaches.
5. Oklahoma City, Oklahoma
Oklahoma City's commitment to its veterans is evident in its numerous veteran programs, affordable housing, and growing job market.
6. Raleigh, North Carolina
Raleigh stands out for its booming tech industry, offering numerous job opportunities for veterans. The city also prides itself on its excellent schools and affordable living. Fort Liberty (formerly Fort Bragg), is about 90 miles away, and Raleigh has become a natural hub for veterans to retire or start their civilian careers.
Learn more about North Carolina benefits for veterans.
7. Tampa, Florida
Home to the MacDill Air Force Base, Tampa is no stranger to the needs of veterans. The city offers a robust job market and various recreational activities, all under the Florida sun.
8. Omaha, Nebraska
Omaha's low cost of living combined with its expanding job market makes it an excellent option for veterans, especially those looking to start their businesses.
9. Madison, Wisconsin
Madison provides a balanced mix of excellent schools, a growing tech industry, and various recreational activities. The city's veteran-friendly policies only add to its appeal.
10. Boise, Idaho
Boise offers veterans a tight-knit community feel, excellent healthcare services, and a booming job market, especially in the tech sector.
The Worst Cities for Military Veterans:
1. Newark, New Jersey
Despite being close to NYC, Newark offers limited job opportunities for veterans, coupled with a high cost of living.
2. Memphis, Tennessee
While Memphis has its charm, its high crime rate and below-average healthcare services make it less appealing for veterans.
3. Fresno, California
Fresno's high unemployment rate, combined with California's high cost of living, creates challenges for veterans looking to settle here.
California does have state benefits just for veterans. Learn more here.
4. San Bernardino, California
Limited job opportunities and a higher than average crime rate put San Bernardino on this list.
5. New Orleans, Louisiana
Although rich in culture, New Orleans' rising crime rates and limited job prospects in defense sectors make it a challenging city for veterans.
6. Stockton, California
Stockton's economic struggles and high crime rates overshadow its proximity to the Bay Area.
7. Baltimore, Maryland
Despite its coastal charm, Baltimore's high crime rates and high living costs can pose challenges for veterans.
8. Toledo, Ohio
A shrinking job market coupled with limited recreational activities make Toledo less attractive to many veterans.
9. Cleveland, Ohio
High unemployment rates and a struggling economy put Cleveland on the radar for veterans to reconsider.
10. Baton Rouge, Louisiana
Baton Rouge's limited job opportunities in defense sectors, combined with higher than average crime rates, make it less than ideal for most veterans.
In Conclusion
When deciding on where to settle post-service, veterans should consider factors like job opportunities, healthcare services, recreational activities, and overall quality of life. Both lists provided here are based on statistical data and personal reviews. Every veteran's needs and desires are unique, and what works for one might not work for another. It's essential to visit and research potential cities to find the perfect fit.