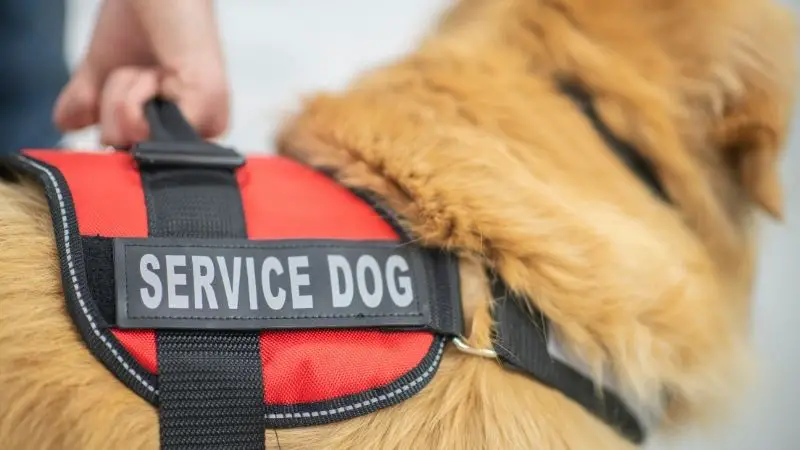 Many veterans are struggling to come to terms with the U.S. military's withdrawal from Afghanistan, which has created complex, often painful emotions for them.  Processing the situation may exacerbate PTSD and other mental health conditions for a number of veterans.
Well Congress has passed a new bill, the PAWS Act, to help vets with mental health conditions get service dogs.
The bill directs the VA to create a program that will provide service dog training, along with other resources, to veterans who are suffering from PTSD.
TRENDING: Veterans Given Huge Home Warranty Discount in 2021 – Get Your Free Military Discounted Quote in Seconds
The bill also allows the VA to provide service dogs to vets who are experiencing mental health conditions.
Now that the legislation has passed Congress, it will head to President Biden's desk to be signed.
Under the legislation, the VA is supposed to work with organizations that train service dogs. Among the groups that supported the legislation is K9s For Warriors, a Ponte Vedra, Florida-based nonprofit that has paired nearly 700 service dogs with veterans.

Rory Diamond, the group's CEO, said the new law puts the VA on a path to covering service dogs for veterans with PTSD.

"This pilot program will prove, again, the life-changing impact a service dog can make in mitigating a veteran's symptoms associated with post-traumatic stress," Diamond said in a press release.

Currently, the VA covers veterinary costs of service dogs for veterans with physical disabilities, including blindness and mobility issues. The new law does not require the VA to do the same for service dogs trained for mental health support, but it does allow the department to do so if it chooses and has the funding.

via Military.com
TRENDING: Congress Gives U.S. Veterans a Generous Mortgage Relief Program – Confirm Eligibility in 60 Seconds with Quick Quiz
Historically the VA has refused to cover the costs of service dogs for veterans with PTSD, despite there being undeniable proof of a service dog's ability to reduce their handler's symptoms of PTSD.
The process a veteran must go through to get a service dog properly trained can cost up to $25,000. Which is why this bill is so crucial for those who could benefit from a service dog. No veteran should be required to cover this financial burden.
We owe it to our veterans, who have already sacrificed so much for our country, to provide them with the option of a service dog if it will help alleviate their mental health conditions. And with the current Afghanistan situation having increased mental trauma for many vets, we need to act now.
Once Biden signs the PAWS Act, if you feel you may benefit from a service dog please speak with your healthcare provider to discuss this available treatment option.