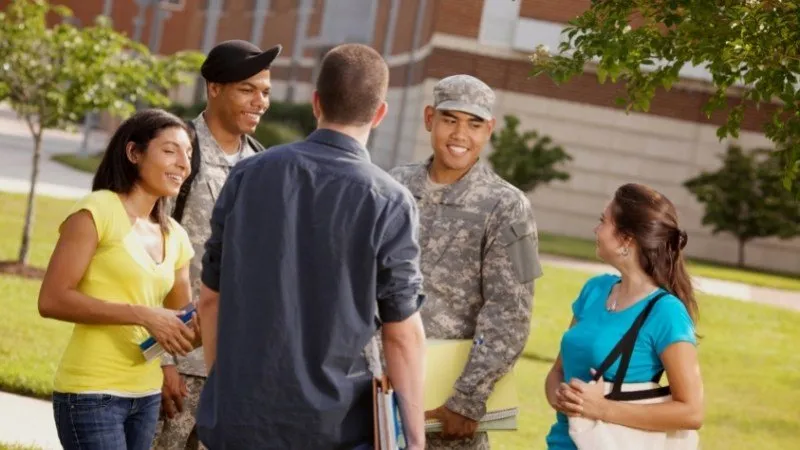 The Department of Education recently announced that veterans and service members who have student loans may be eligible to have the interest forgiven on their loans. And in some circumstances, they may be able to get their entire loan liability canceled.
The Department of Education said they are currently working to provide these benefits automatically, meaning there would be no action needed from the veteran or service member to get the benefits applied.
TRENDING: Veterans Given Huge Home Warranty Discount in 2022 – Get Your Free Military Discounted Quote in Seconds
In their press release, the Department of Education laid out who may be eligible to have their interest forgiven, along with who may be able to receive total forgiveness of their student loans.
First, they stated they will write off the interest on student loans for 47,000 veterans and service members who received imminent danger or hostile fire pay while they were serving.
Federal law specifies that service members deployed to areas qualifying them for imminent danger or hostile fire pay do not have to pay interest on certain federal student loans received on or after Oct. 1, 2008. Previously, to receive this interest waiver, a member had to request it and provide proof of their eligibility by providing orders or a leave and earnings statement (LES) as proof.

Recently, however, the Department of Education initiated a data sharing agreement with the Defense Department, allowing the agency to determine automatically who is eligible for the interest waiver and forgive any interest erroneously charged to service members or veterans. The interest waiver is retroactive to 2008.

via Military.com
TRENDING: Congress Gives U.S. Veterans a Generous Mortgage Relief Program – Confirm Eligibility in 60 Seconds with Quick Quiz
Furthermore, the Department of Education stated more than 323,000 totally disabled borrowers will have their entire student loans forgiven. Veterans receiving disability benefits from the VA, as well as those receiving disability from the Social Security Administration, are included.
In total this amounts to around $5.8 billion that will be forgiven.
Similar to how the interest is being forgiven, the Department of Education will automatically apply the total loan forgiveness for those who are eligible.
If you'd like to get more information you can contact your lender directly.